Our laser welding experts are equipped with a range of lasers and can weld a wide range of parts to form high-quality welds.
During the laser welding process, materials are distortioned in some way so that finish machined and pressed components can be joined. At Micrometric we specialise in minimal distortion and minimum heat input welding for parts which contain some temperature sensitive items inside them.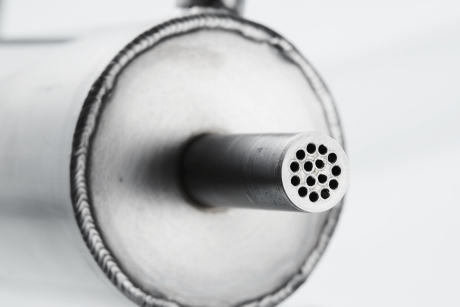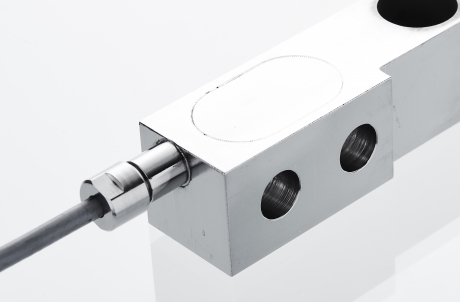 The range of powers and ability to vary the laser spot size in our various lasers gives a wide range of power densities, which in turn allows a wide range of weld widths and depths.
The powers range from 100W to 1kW CW or modulated and there are also pulsed lasers that can provide up to 4.5kW peak power. Modulated or pulsed lasers are useful in controlling the heat input and the temperature rise of the part.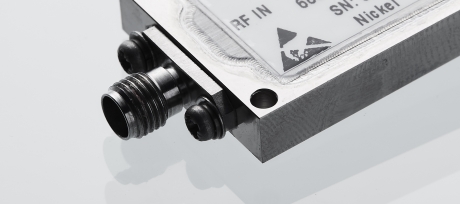 We can also weld autogenously or with wire feed. Depending on the metallurgy of the parts, it is possible to add different alloys as wire to adjust the weldability of the component. The wire feed can be fully automated within the welding machine. For some welds, such as titanium, a helium atmosphere is needed and an enclosed helium welding system is used.
Weld analysis can be carried out and includes cutting and measuring weld cross sections. At this stage, photographs can be taken and provided if needed. Dye penetrant crack testing and, He leak testing for hermeticity, and pressure testing can be applied to sealed parts.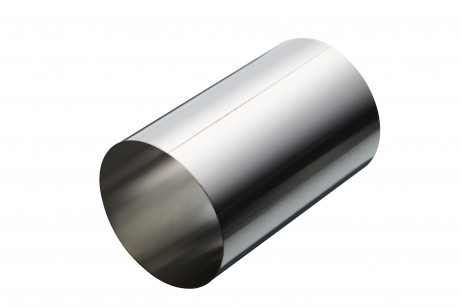 In some cases, we can measure and record the temperature rise on the part during welding. This includes parts that require a very thin metal to be welded such as the 0.1mm thick tube shown above. Welding very thin to thick parts onto thin tubes is also a speciality.
The range of metals that we can weld includes 300 series stainless steel and some pH grades as well as nickel alloys (625 and 718) etc and many titanium alloys. We can also weld higher carbon steels and 400 grade stainless steel or other metals if they are more weldable.
A variety of materials can be laser welded dependent on the metal composition and design of the product. To find out more about our capabilities please see the table below. Alternatively if you'd like to discuss a personalised product, please contact us for more information.
LASER WELDING CAPABILITIES
Please see the table below for full details on our laser welding capabilities in terms of materials.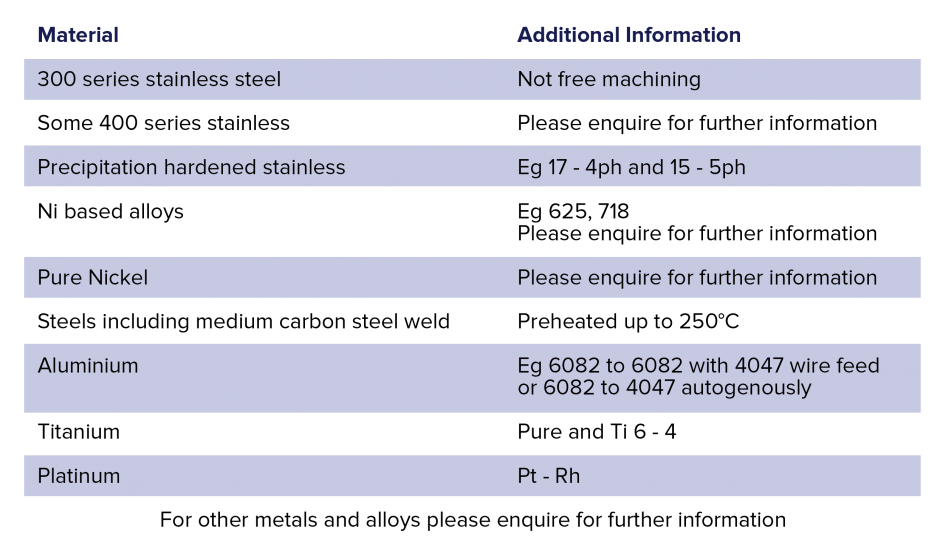 Please note: Alloys that are 'free machining' are usually not weldable. For example, 316 plate is easily weldable, 316 bar usually cracks when micro welded. Please contact us for more information.