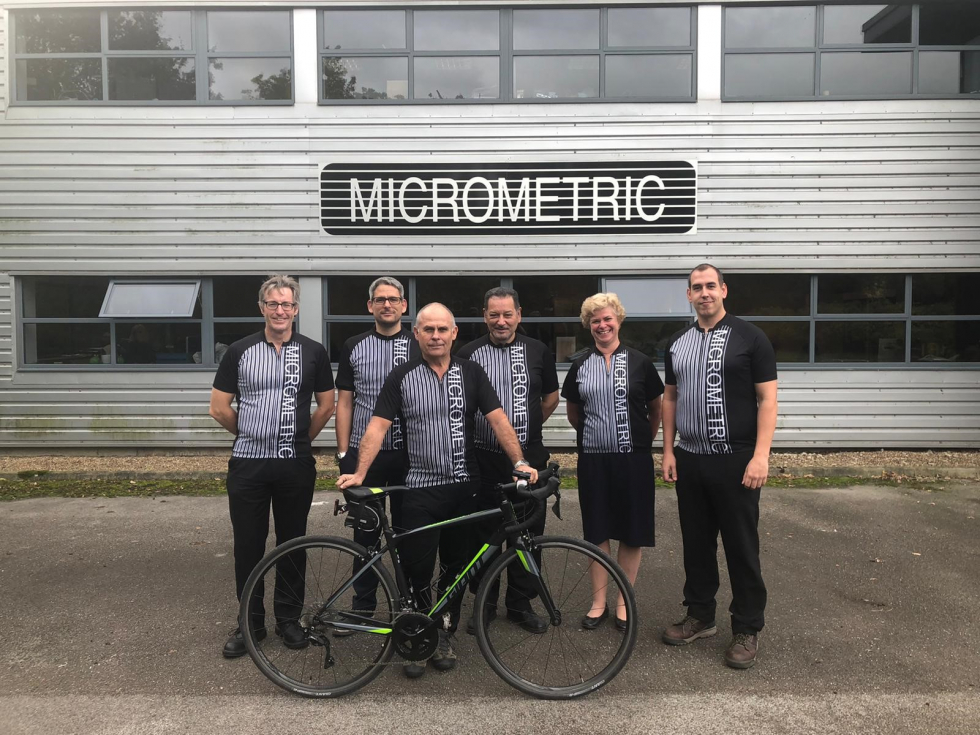 It's been a fantastic September here at Micrometric and we're so proud to announce that we took part in the Cycle 300 for Cancer Research UK, raising an amazing £1,353.43 for the charity.
Cancer Research UK challenged brave bikers to cycle 200 or 300 miles this September to raise money for their life-saving research. As soon as we heard about the project, we knew this would be the perfect way for Micrometric to get involved as we have a few keen cyclists in our team.
Seven of our staff members took part – Chris Waters, Kieran Jordan, Matthew Waters, Gary Colin, Neil Skelton, Nino Vacca and Rosie De Smit. We got our spandex out and pedalled through rain and shine, all for a great cause!
Cancer Research UK recommends cycling to work 10 miles every day and you'll hit 300 miles in a month. Each member of our cycle team completed 200 miles in a month, apart from Gary, who smashed our target and completed a total of 300 miles!
We took on the feat in true team spirit by splitting the distance between us to lighten the load, as well as by cycling some of the miles together after work for support.
Our cycle route included Washingborough, Branston, Sleaford, Woodhall Spa and Bracebridge Heath. The team achieved their goal with a mixture of riding to work during the week, Friday night group rides and Rosie even completing her miles at the weekend as part of her cycle group.
We'd encourage anyone to take part if they can. By chipping away at each mile one by one we felt the 200-mile goal was more than achievable. It was also great to clear our heads after work and let off some steam caused by life's stresses.
The Cycle 300 was not only a really great way for our team to get fit, reduce stress and burn calories; Cancer Research UK is very close to the heart of employees who have been affected or know someone affected by cancer. Every two minutes someone in the UK is diagnosed with cancer, so for many employees it was very much a personal mission.
The money we've raised will make a big difference to Cancer Research UK, supporting their pioneering research into the prevention, diagnosis and treatment of cancer as they help to save millions of lives. Over the past 40 years their amazing work has helped survival rates double!
We'd like to thank our Cycle 300 team for all their hard work. We're looking forward to getting involved in more rewarding charity projects this year and raising even more money for worthy causes.